Building A Festival
Every year when the sun comes out again, summer festivals pop up. Music, beer, happy people, it's the same everywhere, but what happens hebind the scenes? What does it take to organise a festival? KindaMuzik signed up reporter Dennis Elbers for 7 days of hard work and to report on the making off Parkpop copyright, Europe's largest outdoor festival.
Publicatiedatum: 03 juli 2000
DAY 1
The preparations already started a year ago and this week will prove if everything was prepared well enough. The construction of the festival area started already ten days prior to the festival.
My job is to take care of problems which occur during this week and to do some courrier-work now and then. Today we started setting up the two huge stages, which also had to come from the Dutch Pinkpop festival. This job will take another 3/4 days. The area was already 'fenced', this to mark the backstage area and for the crowdcontrol. This takes a few miles of fences. But before all this could happen, the central control unit had to be built. From here the entire festival area is co-ordinated. So this is the control center, resulting in hundreds of phonecalls, faxes and emails.
So far not many problems have occured, only a few companies didn't deliver stuff as asked for, (e.g. milk to feed the construction workers and refrigerators to keep the milk cooled, minor problems), so this has to be taken care off tomorrow. Also no problems with bands, so far. I have to touch some wood now! Last year's Parkpop had a few bands which cancelled their gigs just days before the festival. It's always hard to find good replacements when that happens.
And there is a serious hype starting here on site: drive a golfkart, good fun that is! Guess what I'm gonna do right now!
DAY 2
Another useful transportation device on site is the go-ped, we got three of them to cruise the park, because walking will cause blisters. Today the milk-problem was still not solved, so it was my problem now. The stagebuilders really need their milk, they drink about a litre per person each meal. Off to the supermarket then, the girl at the counter looked kinda surprised when I arrived with 90 litres of milk, but at least the boys got their milk!
Another cool thing crossed my ears today, I will have to pick up the Bloodhound Gang from the airport on saturday, that will be fun. On friday there might be a nice ride for me to Germany. At an american airbase I will need to pick up some candy and stuff, for an artist who ordered a specific brand which isn't available in Holland. Some artists have really strange demands on their wishlist (e.g. the Bloodhound Gang wanted the skeleton of an ape, but that appeared to be a joke). The stages are almost finished. There are two groups who built the two stages, a Dutch group and a Belgian group. They have a competition, the group that finishes their stage first will win a trophy. Good for us!
DAY 3
Normally it gets busier for me, when the festival day approaches, but not this year.
Today I had a really relaxing day, although the stress level here at the central control unit is rising. Not that the people here are freaking out, but they trend to stress when sunday comes closer and some stuff isn't delivered yet. The weather reports say that sunday it will be a real sunday, about 30 degrees celsius. So we ordered the fire department to spray heeps of water during busy gigs.
And by special request of the Bloodhound Gang, collegue Marja had to sort out Skitle candy on colour, otherwise the drummer would freak out. We also prepared some cool stuff for Reef, known football fans: we made some special orange Parkpop t-shirts for them. As you can see on the photos, more and more stuff is placed on the festivalground, even the Ferris wheel (Europe's largest) is almost finished. Just like the catering area and the backstage area, which is quite big.
DAY 4

What a busy day today. It's Friday and the stress level is still rising. Almost all day long I was in my van, listening to my specially recorded van-tapes. The heat was the reason why I was in the van: I had to buy buckets and sponges. Now you think why do you need all those buckets and sponges? Just to keep the crowd cool! We put the buckets filled with water near the frontbarriers and the security will sponge the people when they get too hot.
Like every day I had my dinner at the special tent we put up for the catering. All the people who work at the festival area can eat their meals here. The food is good and it is good fun to talk with all those different people. After this there was a lot of work to do at the central control unit, so no fun for me today.
DAY 5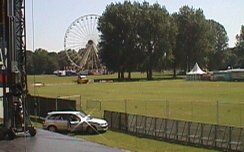 It is almost showtime, so time to pick up some bands! My job for today was to pick up the Bloodhound Gang band-gear. Something I looked forward to, because those guys have a weird reputation. I met them at the airport, these guys were really worn out, they were very quiet, loaded my van and I took off. So no big deal! The stress-level has reached 9 on a scale of 10, but all is going well. No bands have cancelled their gig and no clouds in the sky. But we already knew that. The Ferris wheel is also ready to go and I look forward to make a ride to overlook 350.000 people.
D-DAY!
Today was the day! In the morning there was still a lot to do, but we managed to get it all done in time. So the party could kick off in time.
During the morning I even had to bring a crew member to the hospital, he heard something snap in his legg. Racoon was the first band to play, at 1 pm, they played very well although they were a bit nervous before the show. The people loved it and the festival ground was already getting pretty crowded.
It is very nice to see so many people having fun, after a week of hard work to make all this happen. I took a ride on the Ferris wheel and it was amazing to see al those people. The police estimated that at least 375.000 people visited Parkpop. One of the few bands I saw were the Bloodhound Gang: entertaining show! From Coke-drink competitions, nude people on stage and a VIP spit competition. But that was about the last thing I saw, I needed some food and after 9 pm we had to start cleaning up the mess 375.000 people made.
THE DAY AFTER
Amazing to see that things which take a week to be built, came be torn down in a day. At the end of the day the stages are gone, the central control unit is almost empty. Only the fences are still standing, they will go down tomorrow.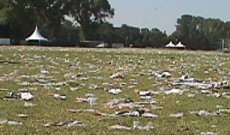 But what a mess it was this morning when I entered the park. The green grass was barely visible due to all the trash those 375.000 people left. It will take about two days to clean that mess. After this the park will look like there never was a Parkpop 2000...

For more details on Parkpop visit their website @ www.parkpop.nl.
http://www.kindamuzik.net/festival/709/building-a-festival/510/
Meer op KindaMuzik: http://www.kindamuzik.net/artiest/709