3 Colours Red
In February of this year Revolt, the second album of UK's punkpop band 3 COLOURS RED was released. Late June they had an amazing weekend: a gig at the Wembley Stadion and, the next day, performing at Europe's largest summerfestival (Parkpop, 200.000 visitors). KindaMuzik ran into the 3 Colours Red backstage and had a chat with 4 guys struck by some massive hang-overs...
Publicatiedatum: 01 augustus 1999
So, how was wembley?
"Massive, it was the best gig we've ever done and a great day. We started drinking with all the bands backstage and in the evening we got into the bus and came over to Holland...now you know why we have a slow start today."
Wouldn't you rather be playing on Glastonbury (also this weekend)?
"No way, anywhere else...it's horrible. 120.000 people all on one site for 3 days...who the hell would want to be there?!? We played there 2 years ago and you can't get out: it took us several hours to leave the premises."
Since how long have 3CR been together now?
"That's about 3 years back. We were just jamming and playing small venues when this A&R-guy and Allan McGee of Creation came to see us and we were signed basically. After that the debut album was released and we toured the UK several times with The Stereophonics as support. Funny that is, by now it's the other way around."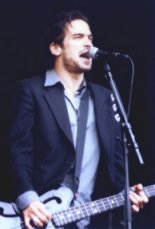 Do you think you play/act different in front of 80.000 people?
"Yeah, you are more concentrated, but for 3CR it doesn't matter whether it's 50 or 50.000. I think we have the best of fun when we do really small gigs (like the one for the fanclub)."
Does playing in a band sometimes make you feel like it's just a regular job or is it really no comparison?
"A bit of both...when your playing it's in most cases fuckin amazing, but at the end of a tour you can get really burned down. But in most cases it's the best job on earth. The next couple of weeks we go on holiday just like normal people do and in August we start writing again and hope to release an album on somewhere early next year. Maybe even NewYear's Eve: UK's first album in the new millennium, that would be cool. But on the other hand: If then the civilisation is going to collapse, I want to be at home...so we'll see."
Which music clears the tourbus immediately?
"That would be new demos, and to get the editor out we use the Sex pistols, they hate it."
Which song can be described as 'the ultimate punishment' to listen to?
"mhmm, I don't know a specific song by name, but just pick anything from these boybands. That's pointless bollocks music, so...for us music must have emotions and I can't find that in these songs."
Which day would you like to do over again with 3CR?
"definitely our gig with The Sex Pistols in 1996 when we first started. We knew one of the Pistols personally, since Keith had done a solo album with him. It was great fun!"
http://www.kindamuzik.net/interview/3-colours-red/3-colours-red/348/
Meer 3 Colours Red op KindaMuzik: http://www.kindamuzik.net/artiest/3-colours-red