AC Acoustics
AC Acoustics from Scotland are one of these Indie guitarbands who will probably never get any worldwide fame for their work, but DO deserve it.
With their latest release 'Victory Parts' being older than 2 years and no news on any upcoming releases in the press, KindaMuzik contacted Paul Campion to get the answers straight from the source: What's happening with the ACs?!?
Publicatiedatum: 06 juli 1999

What's going on with the AC Acoustics at the moment?
"We've been in the studio lots! We're preparing to record the next album, so writing, writing, thinking and more writing has pretty much monopolised our time for maybe the best part of six months. Strating is the easy bit, knowing when to stop is less easy, for us anyway. So you can expect a bit of an epic."
Can we expect an album release in the near future?
"Certainly this year. I reckon it should run to about 15/16 tracks so it will take a while. We're trying out a lot of new things on this record and that always takes time, but we like a record to take on a spontaneous life of its own when we get to the studio. We like to play the our finished recordings and think, 'Wow, where the fuck did that come from?'"
Are you full-time musicians or do you also have part-time jobs?
"Don't be silly. Our music is our lives. 100%. You don't get more full time than that."
Can you explain the rising star of Scottish bands the last two years? Does it stimulate?
"Yes I can. We started it. Others watched and listened. As a result Glasgow is full of watered down versions of ourselves. In the same way, a few years ago Glasgow was full of watered down versions of Teenage Fanclub."
Last month you played you first gig in two years in London...don't you like touring?
"We do like touring very much. Like most bands we tend to tour when we release records and because we release records infrequently, we tend only to tour occasionally. We're really more into the idea of putting on event type shows rather than lots of smaller ones. That takes a lot more planning and unfortunately costs a bit of money. Not as much as touring though."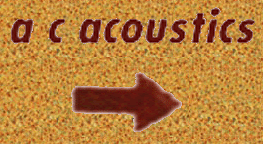 Can you tip us any new cool bands which you've seen/heard of recently?
"A great band from Edinburgh called Khaya. Also Roger Ward, formerly of A.C. Acoustics has a new band called Vera Cruise, who are great."
Do you like festivals? (visiting or playing?)
"I love playing festivals. Bigger crowds and people seem to be more relaxed and willing to have fun. That might sound odd, but our fans tend to be 'alternative' types for want of a better word. Miserable sods in other words."
Does drugs/alcohol stimulate you to make music?
"We're not a druggy band. We're partial to a few beers though. Especially me! Helps me to think. and sleep. That's my excuse. We stopped drinking before gigs a while ago though and it's less fun for us but definitely more fun for the audience. Trouble is they give you lots of free booze and as we all know the devil makes work for idle bands!"
What's the worst trouble you've been in?
"Got arrested after a fight and spent the night in jail. The embarrassing thing is that it was in an all night cafe. Our cafes don't sell booze, they just sell coffee. They let me sleep until midday though which was nice of them."
Last one: already have any plans for this New Year's Eve?
"I absolutely fucking hate New Year and Christmas. I find it all rather depressing for some reason. Last New Year I spent in a recording studio which suited me. The whole miserable thing passed me by unnoticed. I love recording studios. The real world doesn't exist inside them. And they smell of electricity."
http://www.kindamuzik.net/interview/ac-acoustics/ac-acoustics/349/
Meer AC Acoustics op KindaMuzik: http://www.kindamuzik.net/artiest/ac-acoustics