Acid Mothers Temple
Saying Kawabata Makoto is a prolific musician would be an understatement. Actually, we were afraid the leader of Acid Mothers Temple wouldn't have time to answer our questions. But he did. If you want to know more about that notorious Russian underground movie or how to play Absolute Music, read our Pataphysical Freaky interview with the man.
Publicatiedatum: 16 januari 2000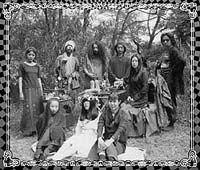 Julian Cope not only chose "Pataphysical Freak Out Mu" as his favourite record of the month, he also called you a shaman. Do you feel like a leader?
"All of us in the group share a kind of common vibration, a sympathetic resonance that unites us. In that sense there is no real leader, although I am the group's musical producer. However that's only because we each have our own strengths and weaknesses, and we all display our various individual talents in different ways."
You have around 30 people in your collective now. How did they end up in the group?
"In various ways - some are old friends of more than ten years, others I have met by chance. But we are all connected by the same kind of vibration. And by a similar lifestyle: we only do what we want, anything we don't like we don't do. Though people might call us social drop-outs, we have formed our own tiny society and we live by helping each other. "
You've played with everyone from the Ruins' Yoshida Tatsuya to High Rise's Asahito Nanjo. It seems like there is a very active scene in Japan. Is it easy to find people to play music with?
"Because the scene actually isn't that large, you soon get to know lots of people. However, there aren't really that many good musicians around."
Is Hedik still active? You played in that band with some of the Boredoms, right?
"It fell apart at the end of the eighties. I think that the group existed from 1978, but I only played with them in 1985."
After checking out the Acid Mothers Temple covers, I noticed that image is very important. Of course there's a clear seventies psychedelic influence. Do you take your inspiration from Japanese culture as well?
"Since I was born and brought up in Japan, Japanese culture has inevitably had a huge influence on me, and it's something that I am proud of. Even when, say, I play hard a Japanese texture seems to naturally come out. In that sense, there is no need for me to deliberately try and include a Japanese flavour. "
Do you make your own clothing?

"Some of the group's members do make their own clothing. I have an absolute loathing of clothes shops, so I've been wearing the same clothes for over 15 years now. In November '99, I bought my first new coat in seventeen years at a church flea-market in Toulouse (France). I've got no interest whatsoever in fashion. Each of the group's members has their own individual style, so i think our ideas on clothes are probably very similar."
People always mention Prog Rock, Krautrock as influences. Are there any other influences that people haven't noticed?
"I've listened to all sorts of music in the past, so there are probably all sorts of influences. For me personally, the absolute sense of beauty and true love of music apparent in troubador music and Occitan trad are vital ingredients."
How was the Japanese music-scene like in the seventies?
"I don't really know, but I suppose that everyone was still just copying Western rock. I started playing at the end of the seventies, and I think that something new was beginning to appear at that time. And that connects to the present."
You have been playing since the seventies. I can't seem to find any recordings of that period. Were you just playing on your own then?
"I released several recordings on my own cassette label R.E.P. (Translator's note: since reissued as a ten CDR set on Kawabata's CDR label), but i didn't have any real connection to the scene. No one understood what I was doing back then."
I noticed you played some traditional instruments. Where did you learn to play these instruments?
"I learnt to play all the instruments on my own. I started using traditional instruments simply because I wanted to use their sounds and textures. I believe that the most important thing when playing instruments is possess just enough skill to be able to produce the music you want."
A couple of years ago you established your own record label. Why did you decide to do it?
"There were various sorts of music that I wanted to play, so I created the label so I could release them immediately without having to wait. And also because I wanted to release music by unknown members of our group."
I also noticed you release a lot of limited records. Why is that?

"At first I wanted to release a solo guitar record, and because I thought that only around 100 people would want to hear it, i made it a limited edition of 100. In addition, solo guitar records are like fresh food - so i wanted to avoid the situation where i'd have to keep on selling something that had grown old and stale."
One of your records, "Ivan Piskov's Wild Gals a Go Go", seems to be a soundtrack to a Russian underground movie. Does it exist? And if so what is it about?
"We have yet to see the film. But in the autumn of 1999, Tsuyama played a solo concert in Moscow and he met with the director Ivan Piskov. It seems that the film isn't finished yet."
Apart from the Acid Mothers Temple collective, you also play other genres like loud guitar rock, such as in Musica Transonic. You also play in Mainliner. You seem to be very eclectic. Are there any other genres you would like to play?
"I've never thought of music in terms to genres, so I can't really give you a proper answer. However I believe that if I ever manage to play "absolute music" then I'll be happy to give up music. "Absolute music" is hard to explain, but I feel that it's like the cosmic principle, an extreme and absolute form of music."
You've been on tour through Europe and the States. How was that like? And do people react differently to your music in the Western World?
"Westerners are better at enjoying themselves. Everyone seems to have their own way of appreciating and enjoying the music."
Your band played with the Pastels and Richard Youngs at the Psychedelic Trip Festival. How was that experience like?
"The experience of making good friends in many countries has been irreplacable. I think that as a musician Richard Youngs in particular has an amazing sense of song. I hope that we can continue to meet lots more wonderful people."
http://www.kindamuzik.net/interview/acid-mothers-temple/acid-mothers-temple
Meer Acid Mothers Temple op KindaMuzik: http://www.kindamuzik.net/artiest/acid-mothers-temple