Black Rebel Motorcycle Club
Don't focus on the hype, listen to the music. Black Rebel Motorcycle Club are piping hot at the moment. The perfect opportunity to catch up with the band on tour in Rotterdam and talk to BRMC's Robert Turner.
Publicatiedatum: 07 maart 2002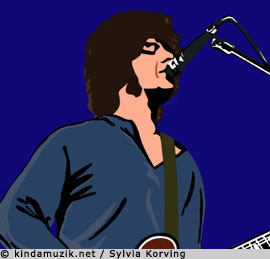 I know that this has been a long tour for you. How has everything been going so far?
"It's amazing. It's the first tour we've ever done outside of America. This club [Nighttown in Rotterdam] is pretty big. Last night wasn't as big [Knaack in Berlin], but it was kind of back to some of the smaller places we've played, which is kind of familiar, so it was really fun. The night before that was just ridiculous. 2000 people in the London Astoria. We couldn't stop laughing. I don't know: It's strange, because we haven't been to any of these places. In America we travelled forever, back and forth, cross-country, playing. A show a day would break our backs. Then you'd see it go from ten people to 800 people. Slowly, but still..! That's kind of the way it registers. If I kind of close my eyes and just go through it, it makes sense in another way. Just coming from a place where we got to to about the place we are here, and then - when we bridge over the gap and play in Europe - it's almost like nothing changes. It all moves pretty evenly, rather than having to start from the top."
Are the crowds similar in Europe to what you're used to in the States?
"Well, not every show is sold out in the States! That's one difference. We were all talking about Germany, which is where we were last night. It's an interesting place: People were very reserved, except for the first show in Hamburg. Five songs in, the crowd all freaked out and started getting into it. We were like: 'Wait a minute, we're in Germany, right?!!' That was one of the louder shows, so maybe that helped!"
How important is playing live to you?
"I don't think we'd be doing it if it weren't enjoyable. It's pretty obvious. It's kind of when you drift through life, not really knowing what you want to do and all of these questions... You never feel quite comfortable. The first day we went out on the road it just all made sense to all three of us. You felt like you were finally in your skin, and everything was natural. Every time you get home for even a couple of days, you just want to go out again. Maybe it's less the thrill of playing to people; it's the lifestyle that does our mind and body good... well, good and bad, but mostly good!"
Do the songs change or mutate at all during the tour?
"We've got Pete Salisbury [ex-Verve] on drums for this tour, so people are asking us what the differences are. Kind of the best way to describe it is that Pete sounds more like our album some of the time. It fuckin' trips me out. That was his reference point for the most part. Nick [Jago, BRMC drums] took all of the songs and went further, in my mind. When he recorded the album, that was the first time we'd all played most of those tracks, and they just evolved. They all got a bit tougher. Funny, I've got a clear picture of the album. I listened to it for the first time in months last night, and it scared the hell out of me! I've been going so long with a perception of it that wasn't really right. It's a really amazing record. I find flaws in it, which I hate, but I like the imperfection of it. We went for that. More so, it's the little things that bug me... We do the song 'Rifles' so much meaner live now; we push the tempos and just really dig into it. 'White Palms' is the same way. My only regret, maybe, is with those songs."
How important are the inner-band dynamics for you, being a three-piece group?
"A three-piece really hinges on that. It was really scary in the beginning, when we were thinking about playing with Pete. Originally, we didn't even want to do a tour. 'Never play without Nick': That was our philosophy. Pete was just really helpful, and he even flew all of the way out to LA and practised every day for a couple of weeks with Nick, with the kit right beside him, just watching him... He got more than the parts; he really learned his feel. That's the most important thing. We couldn't have done it without that. Everyone started relaxing and wiping the sweat off. It seemed like it was going to be a possibility after that."
As a band, you produced the album yourselves as well. How important is it to you to keep that control over your music and to stay independent like that?
"I think it's more important to other people. I think it matters more to fans when they feel like they're listening to this band and they get the video that feels like it came from this band, the album artwork... We've got our own signature we put on everything. I just think it carries more weight to people if they've got to sit down and watch us or listen to us or buy it. That's where it counts. We're just trying to do that, not change. People want our music, want to know where we're coming from, rather than someone else's impression of it."
How do you go about writing songs? Is there an initial framework you work with, or does one of you deliver fully-formed ideas?
"Uhm... I'm not going to be kidding: Peter [Hayes, BRMC guitar/vocals] and myself would go - either on our own or together - write on acoustic guitars and then try to make that song happen live. We should really stop doing that, because all of the best songs come through when we just play together. It's really cool, because there's an element of chance. We all don't know where we're going. More interesting sounds come out of that, more interesting to us, because we didn't pre-think it. It's more natural."
Are you able to write at all on the road?
"There's quite a bit of time. In the beginning, there wasn't. We were in a van, and we were doing a lot more, constantly doing stuff to get the album out there. We didn't have soundchecks, because we'd either be opening for a different band, and even when we'd headline, we'd bring friends' bands with us, and we didn't want to screw them out of a soundcheck! The only free time we had was on stage, during our set, so we ended up writing songs in front of people, usually at the end of a show. We'd just start a drum beat, start a jam, and see where it goes. We got about seven or eight songs out of it, and we're still going to keep doing that."
You've been in the media a lot lately, with lots of press coverage about BRMC. Are you ever worried about turning into too much of a hype, and do you feel any increase of pressure on your shoulders to deliver the goods?
"I get that question asked all of the time! I've really tried to find that part of us that's like that, and I can't. We've just been working too long at it to think that this is anything but getting recognition for what we've done. I'm pretty good at getting paranoid, having self-doubt, and all of that stuff, but I don't think I've worked harder at anything. I don't think that I'm better at anything, and I know how good these other guys are [Hayes and Jago], not so much myself. I can look at them and say that they're the best guitar player and best drummer in the world. I hope that people are just as much a fan of the music as I am. The only thing that ever really worries me... The one thing that I hate about the press is that it makes you out to like something because the majority does, what gets attention... I personally don't like to be told 'this is going to save music' or 'this is your new favourite band.' What kind of crap is that? I want to find out on my own, and I don't want to be told it. That never convinces me of it anyway, so all it is is somewhere really difficult to start from. It's all up to people how they take it, if they still give it a chance. If they give it too much of a chance or no chance at all... That's up to them."
Are there a lot of misperceptions about the band?
"Over here, there are fucking misperceptions up the ass! In America, we got written up a lot. It's such a bigger country, and it doesn't hit the same way. Over here, it just spreads like wildfire. The mentality in America isn't as juicy; they don't want the dirt as much. I don't think it's because they're more respectful. I just think it's because they don't care that much. Over here, it's just kind of silly. So far, I've been able to read something and just find the humour in it, more than anything else. That's also because these are good days for us right now. When they start becoming bad days, and they're still writing fucking cheesy, crappy tabloids, I think I'd change my opinion of that."
Are you at all influenced by what's going on around San Francisco, and is there a scene there that you relate to at the moment?
"We were always doing our own thing. It started that way, and it was never embraced in the beginning, so we didn't feel like we needed to give these certain people something. San Francisco is hard, and any band you'd ask at the time was just dying. No one could get anything going. We went a year without anything, and we were struggling. LA embraced us a lot more. The music scene wasn't doing what we were doing exactly, but we fit into it somehow, and it was just nice to sit in a place where people knew where to go. They had much more of a thing like: 'We've seen it all before. What have you got?' They did have that, but it's not what people think of LA. Slowly, people are catching on to it. Going out in Silverlake, and people are just really good? They care about music."
The songs on the album are all a little older now. Have you got much new stuff lined up already, and is it much different from what we already know from the debut?
"Well, here's what's in my head: We've had the second album done in our minds forever."
Does it sound good?
"Fuckin' great! It's very similar to this album. I respect bands that go and tackle something completely new. I respect that, but I never really enjoy those albums as much as them doing exactly what makes them work. That's kind of how we put our heads into the first one. And we also just have a lot of songs. We were even thinking of making a double album out of this one, so that you get the kind of feel that you've finished some kind of a story. I've also just got really fucking great songs for the third album! Now I'm trying to think: 'Should I really break my back and try and finish them and then plug them into the second album?' It's tough, because they're really good, but they're a little more ahead of where we're at right now. People would hear it, and it would be a couple of steps forward."
It wouldn't be reinventing the wheel though?
"No, it's just a bit darker, and it feels like, musically, we've come into some different places. This is for me to stress out about! Don't worry about it. It's my problem!"
http://www.kindamuzik.net/interview/black-rebel-motorcycle-club/black-rebel-motorcycle-club/1381/
Meer Black Rebel Motorcycle Club op KindaMuzik: http://www.kindamuzik.net/artiest/black-rebel-motorcycle-club