Aesthetics
Since 1998, Aesthetics have been at the forefront of innovative and beautiful music. With a heart in Chicago, the label constantly release records of a high quality. We talk to Aesthetics boss Ken Dyber.
Publicatiedatum: 13 december 2001
Why did you choose to name the label Aesthetics?
"My mother always talked about aesthetic beauty and the aesthetic things in life. She used this word quite frequently while I was growing up (and still does). It kind of stuck in my head, and I think it's a great word for describing things of beauty (depending, of course, on the context)."

What - in short - is the history of Aesthetics? How did it come about?
"I started the ideas for the label in New Hampshire when I was still going to school there. I was the Music Director at my college station for 3 1/2 years and was turned on to many of the labels I know and respect through these channels, and I owe a great deal to them all for answering
so many of my questions. I started talking to some bands I liked, who didn't have records out or any new ones in the works (The Lune, The Sorts, Isotope 217), and they all agreed to do records, so things just sort of went from there. If you'll notice the first Aesthetics release (ast03: The Lune: 'Sill') has a New Hampshire address instead of a Chicago address. When I moved to Chicago I interned at Touch & Go for a few months, where I learned more, and the rest I guess is history..."

How would you describe the Aesthetics sound? What are the qualities you look for when signing artists to the label?
"The "Aesthetics sound"? Ah... I think the records can speak for themselves here. Some are accessable, some not so accessable. Some have lyrics, some don't. I've signed bands whose music I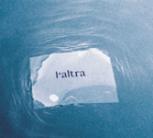 like quite a bit and who I feel that I can work with well on a personal level as well."

If they weren't signed up already, is there any band you'd love to snatch up without hesitation?
"Anti-Pop Consortium probably. They are so damn good."

Aesthetics is a relatively small and independent label. How important is the make-up and position of the label to you? Is independence and size a major factor in the label's philosophy?
"I'm not sure what you mean by "make-up and position"? Yes, we are independent and still quite small, but we're growing every month and every year. Sure, I would like the label to become bigger;
that would mean we're selling more records and reaching more people, which would open up more doors for all of the artists involved. I would love to get our records out to as many people as possible without being like some corporate business or something..."

What does a typical day at Aesthetics Central look like?
"Chaos usually. I have this huge stack of papers on my desk that goes back a month or two of things to do, and it just keeps getting bigger. There are boxes all over our apartment now with three new records out next week and several more in the works. Between answering the phone, dealing with faxes and email, and going to the post office and sending and receiving stuff from UPS, it's pretty crazy."

What's the scene in Chicago like at the moment? To what extent is Aesthetics a product of its natural surroundings, and to what extent are you influenced by music coming out of Chicago?
"I think the Chicago scene right now is pretty dull. Band-wise there hasn't been a new band to come out of Chicago I've been really fond of for quite some time... There are many groups here I like, but they've all been doing their things for years now. There is a good small upcoming electronic music scene developing here, though, and a new electronic record store which is quite
good to help support this scene. Pulseprogramming may be one of the more well-known groups in this scene, just because they have a few records out, but names like Pal:ndrom, Beneath Autumn Sky, String Theory, Tommy Sunshine, etc. are all making names for themselves respectively. I think the electronic scene (at least this genre/IDM scene) here will be the next thing of interest to come out of this city. I'm not really influenced by what's going on here that much anymore. Most of the stuff I listen to comes from either NY, California, Germany, or the UK, not to take anything away from other places... I'm just saying most of the stuff, not all."

The internet is rapidly changing the way people consume and listen to music. How important is this new technology to you, and do you have any plans to use this medium in different ways?
"I think we might be doing some CD-Rom releases soon. Some groups are interested in doing DVDs, but I think this could be a financial nightmare at this point, with their cost being so high. If I said the new technology wasn't important, I would be pretty dumb. It affects me every day and the music community every day in many different ways: some good, some not so good."

When releasing a record, how important is packaging to you, combined with the music on the disc? Is there an Aesthetics look?
"Packing is very important. Thus, why I chose the name for the label. We won't ever release any CDs in jewel cases... I've said this from the very begining. I think they are boring, ugly, they break all the time, and they separate you physically from the artwork. It's like putting a painting
in a glass case.. I don't enjoy that separation; touching the artwork to me is part of the tangible experience. As for a look... You be the judge on that one. I would like to think our records are consistently intersting to look at and listen to. The artists all have the say in their artwork, so if they look similar, it's only because the artists on the label have similar tastes in design."

What does the future hold for Aesthetics?
"A new web site. We will be distributing other labels we like on our website very soon. In the next year, new full lengths from: Hood, Windsor For The Derby, 33.3, L'altra, Daniel Givens, Pulseprogramming, and The Eternals, more grey hairs, more messed-up artwork that I'll have to send back to my manufacturers (If someone else owns a record label out there that reads this... please email me, and tell me you don't have problems with your manufacturers screwing up your artwork on a somewhat regular basis??)."

http://www.kindamuzik.net/label/aesthetics/aesthetics/939/
Meer Aesthetics op KindaMuzik: http://www.kindamuzik.net/artiest/aesthetics