90 Day Men | To Everybody:
This is where the seeds are sown.
CD, Southern/Konkurrent
Publicatiedatum: 20 juni 2002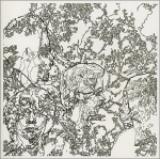 They're good at scaring people. Any other conclusion is impossible to draw when putting on To Everybody:, the second full-length from 90 Day Men. The first few notes the singer is able to pull out of his lungs are so off-key, one begins to think Neil Young is the best singer in the western half of the globe. The falsetto the singer uses in that opening track, I've Got Designs On You, is buried safely for the rest of the album. In doing so, 90 Day Men increase the value of their music by 100%.
And please, don't let them scare you: They don't bite, and chances are you'll enjoy their efforts in the end. 90 Day Men are a superb and original band. There you have it. Let me explain. The tag indie rock sticks long enough to draw attention, but the term fails to be complete. Because 90 Day Men are not afraid to experiment. Song structures are not in the traditional verse-chorus-verse form; if you're lucky, you'll be able to recognise a theme played earlier reoccur in one or two songs. Instead of letting the guitar do the talking, the band push a grand piano to the front of the stage, making the sound much more soulful than other indie rock bands. And if we're speaking about putting soul into rock, naturally The Afghan Whigs come to mind. A comparison that is not that strange, because the vocals are not unlike Greg Dulli after some bites of space cake. Musically, 90 Day Men tend to get much more complex, sometimes even bordering on jazz. But, even during the most inaccessible moments, there's always a central melody that holds things together.
But not every piece in that pot at the end of the rainbow is made of gold. Sometimes, 90 Day Men sound like a bunch of over-achievers who want to prove that jazz rock and indie rock aren't two different kinds of music. Secondly, some songs could have been a bit more compact, because in the extraordinary three-minute song Last Night, A DJ Saved My Life they prove that their strongest qualities lie in that area.
So, as I said before, don't let them scare you. Just check them out. The 90 Day Men seeds are sown here, and if they'll come to maturity over the years, you'll be glad to have known them from the start.
http://www.kindamuzik.net/recensie/90-day-men/to-everybody/1633/
Meer 90 Day Men op KindaMuzik: http://www.kindamuzik.net/artiest/90-day-men