Blimey! | Less Summer Than Some
'Less Summer Than Some' is more than able to satisfy.
CD, Partners In Crime/PIAS
Publicatiedatum: 28 februari 2002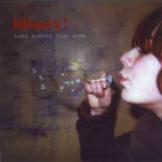 I'm less summer than some.
What a strange expression.
But I don't give a damn,
'cos that's who I am.
One thing's for sure: Martien van Bergen likes to do things his way. Emphatically individualistic and with a knack for slightly off-kilter songwriting and performance, van Bergen, who hails from the Dutch city of Eindhoven, single-handedly wrote, recorded, mixed, and played every note of 'Less Summer Than Some'. The album, recorded under the guise of Blimey!, is van Bergen's second full-length (following 1998's 'Contradictory Nature And The Struggle Within', and it's quite a mouthful to take in all at once.
Coming across as a somewhat over-ambitious pastiche of a multitude of styles at times, this is nevertheless a highly infectious, albeit extremely quirky piece of work. Many of the songs are under the two-minute mark, possibly reflecting a certain lack of editing here and too many ideas there, but luckily - in the long run - 'Less Summer Than Some' is more than able to satisfy.
The titles already give a hint as to what the listener is getting himself into: 'Theme From "Liebesrache"', 'Grease Lightning Gigolo', and 'Walk The Psychopath With Me' are just a few examples of the strange world we're entering, as figures the likes of Schopenhauer, Holden Caulfield, Elvis, and Seventies glitter-rockers Mud all make brief cameo appearances. In fact, permeating and coursing throughout this record is more than a subtle hint of on-the-edge madness and a slight loss of sanity, although one gets the feeling that this could quite possibly be more tongue-in-cheek than at first meets the ear.
The musical influences are certainly multi-varied and diverse: 'You' is a speedy form of inbred bluegrass, 'Song For The Abandoned' has shades of Zita Swoon predecessors Moondog Jr., 'Grease Lightning Gigolo' is pure Hefner wit, 'Fantastic' echoes a jazzed-up Tom Waits, while closer 'Walk The Psychopath With Me' actually harkens back to Glenn Danzig. Luckily - and much to his credit - van Bergen is able to transform this amalgam of influences into his own wholly original sonic melange.
Half-baked at times, but 'Less Summer Than Some' is quite an achieved package of songs and ideas.
http://www.kindamuzik.net/recensie/blimey/less-summer-than-some/1354/
Meer Blimey! op KindaMuzik: http://www.kindamuzik.net/artiest/blimey