Overhead | Silent Witness
Not a very pleasant sound.
CD, Naïve
Publicatiedatum: 29 oktober 2002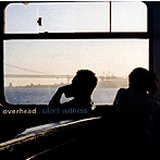 Some people have a voice to which you can listen forever. Coldplay's Chris Martin, Radiohead's Thom Yorke, and Jeff Buckley are a few singers to whom I can listen for a very long time. The singer of new French band Overhead, Nicolas Leroux, is definitely not blessed with a voice like them. His voice looks a lot like theirs, but it has some strange things about it. The sound of him singing at normal strength and pitch is not a very pleasant sound. It is near to being out of tune, but not all the way. Especially in the songs to which there is little musical accompaniment, his voice attracts all your attention, to the extent that you'll almost be unable to hear the music anymore. My next complaint about his voice is related to the lyrics (all written by Leroux too). He often sings very slowly. I mean that when he sings, he likes to draw out the words. He holds on to them for a few seconds and after that he does the same with the next word. This becomes kind of boring after a while.
On the other hand, when Leroux sings very high and with a bit more volume, all of a sudden his voice becomes pure, special, and not bad at all. Secondly, the songs that have more instrumental accompaniment, such as with an electric guitar, all sound very good, his voice becoming a more integral part of the songs rather than standing above them. It is in those songs that Overhead almost starts to look like a real rock band, and not a bad one too! Just listen to 'Air' and 'Monkeys For The People,' and you'll know what I mean. The singer has a bit of a French accent too, which isn't very annoying, but rather funny and different to listen to.
After the first three songs, I thought of this album as a special, surprising, and varied. The first song has a very jazzy feeling about it. The second is a very quiet and sober song. The third is a nice rock song. But after those first three songs, the problems I mentioned before start to come up. Then Leroux's voice becomes annoying. And the rest of the songs are more of the same. Some of the songs have a lost violin in it, but that is all the variety there is in the three concepts of the first three songs. It's not bad; sometimes it is a really good album, but the vocals . . . Well, it is a band with potential. Let's hope on the next album there are more guitars. And I really hope on the next album that Nicolas Leroux writes songs and lyrics for which his voice fits the best.
http://www.kindamuzik.net/recensie/overhead/silent-witness/1990/
Meer Overhead op KindaMuzik: http://www.kindamuzik.net/artiest/overhead