Who Put The Post In Rock?
More talked about than actually listened to, Slint was for a very long time just a local band who released a couple of records. But the far reaching influence it had on bands from June of 44 to Mogwai propelled them in the cult stratosphere. For those still in the unknown, we decided to put a spot-light on the band.
Publicatiedatum: 13 december 2000
Oh uh alright. Indeed that is not how to start a review, let alone a record. But that is exactly what Slint did with their debut Tweez recorded in '87 but only released two years later on their own Jennifer Hartman label. Did they realize how far reaching their influence would be? Like nothing before it, the band produced a clattering sound of paranoia and fear. Tweez is a ramshackle record: half-finished and mainly instrumental songs. Actually it isn't entirely unique. There are some references to be found. An obvious influence must have been Steve Albini, the producer of Tweez. There is no singing here, instead we get screaming, speaking and mumbling. Tweez may not be required for life but it prepares you for the full blown magic of "Spiderland" -- like a master's sketch before the final painting.
When referring to Spiderland we talk in epic terms! For a band that only released one ep and two albums, "Spiderland" is the 900 pound gorrilla. With regard to its huge impact on other artists in the 90s, one is not out of line to compare it to Nirvana's Nevermind, Sonic Youth's Daydream Nation, My Bloody Valentine's Loveless, or
Pavement's "Slanted Enchanted. However, where those other albums splashed onto the commercial or indie scenes', the discovery of Slint's Spiderland sort of crept up on us throughout the 90s, and by the mid-decade any self respecting indie-rock fan had a copy.
Sure two of Slint's members -- drummer, Britt Walford and guitarist/vocalist Brian McMahan -- came out of the great punk 80's band Squirrel Bait, but nothing from that band could prepare us for the masterpiece of "Spiderland." A ground-breaking exercise in tempo, volume, timbre, vocals, and non-linear structures and often long instrumental music. One way to put our arms around the impact of "Spiderland" is to actually talk about all the great music and sub-genres it's inspired.
Let's start with those better bands that are carrying on the Slint tradition. We'll just call that stuff post-Slint rock. These artists
still want to play rock, but the sort of dark and dry music perfected on "Spiderland." There was the great, but now defunct Rodan. Brian McMahan is continuing the post-Slint tradition in For Carnation (which David Pajo has also been a member). Probably the most notable band however, is the excellent Mogwai, which plays, and carries further, an obvious Slint inspired style.
Next there's Slowcore. Bands like Low, Rex and Codeine. Slowish indie rock, often no louder than a whisper. The key is using the absence of sound as the primary dynamic, something perfected on "Spiderland".
Then there's Slint's impact on hardcore/emo-core, which is undeniable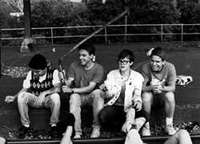 and thrilling. "Spiderland" is guitar rock. The guitars in "Spiderland" often spin webs of taut construct, then explode with hardcore furry. Two of the best post-core bands around, the criminally neglected punk band Evergreen (for whom Britt Walford drums) and the more complex Unwound, owe Slint for its potency in using tension and release, biting stun guitar tones, and brilliant use of emotion in the vocals.
Math-rock bands like Chavez, Polvo, and especially June of 44, owe a debt to Slint for its way of constructing labyrinthian structures, shifting meters, and drums pounding out powerful yet angular rhythms
Next we need to discuss the proliferation of instrumental indie music in the 90s. This was a good thing. Although "Spiderland" is not completely non-vocal, it is largely so, and again, a debt is owed to Slint for opening the door to the freedom in long instrumental forays. Wonderful non vocal bands like Dirty Three, Labradford, and even the experimental Godspeed You Black Emperor!, revel in the sort of brooding and stretched out instrumental music first explored on "Spiderland.
Now we arrive at, yes, post-rock! Although its often fierce intensity does not very closely resemble the quiet noodling and avant-garde coming
out of Chicago these days, "Spiderland is still to most 90's post-rock music, what the first Velvet Underground album was to punk. This is due to Slint's ability to seemingly stop time in place, stretching moments into languid structures, lurching us forward through a tumble of shape shifting quite and loud dynamics. Until "Spiderland", rock had not seen the use of time and space quite like this. I can just imagine all the musicians who upon listening to "Spiderland for the first time, said, "oh, I didn't know you could do that! Cool! There's too many post-rock bands to mention, but even the great musical mind, Jim O'Rourke, speaks of "Spiderland with hushed deference. Also, let's not forget that former Slint bassist, David Pajo, has carried significant clout in Chicago indie-rock and post-rock circles as a performer -- notably, his own releases under the name Aerial M. and Papa M., and as a former member of Tortoise (yes, that Tortoise), For Carnation, and King Kong.
Finally, we'd be remiss if we didn't mention Will Oldham's Palace Brothers. Attempting to make a direct musical connection between
Oldham's own brilliant Appalachian lo-fi and all that is Slint, at first may seem to be quite a stretch. Upon reflection however, one sees a certain unique spirit that will forever connect the two. For starters, fellow Louisville native Oldham is an old pal of the Slint, he even photographed their cover of "Spiderland" and most of the members of Slint have recorded with Oldham's early incarnations of the Palace Brothers. When listening to Oldham it becomes clear that some of Slint's broken starkness is being reflected back through Oldham's own highly mimicked and influential style.
Even if "Spiderland" hadn't influenced anyone, it would still have been a great record for it's pure listening value. The wonderful thing about time, it really does tell! It has shown us just how durable and sustaining "Spiderland" really is. And, even with the plethora of post-Slint bands, the sonic impact of "Spiderland" never seems to be diluted. It is still a unique listening experience, open to repeated plays over the years, and always scratching a craving that no other CD can completely fulfil.
http://www.kindamuzik.net/achtergrond/slint/who-put-the-post-in-rock/431/
Meer Slint op KindaMuzik: http://www.kindamuzik.net/artiest/slint