Alien Ant Farm
This son of an illegal immigrant from Mexico started out as a folk singer, with Joni Mitchell and Tracy Chapman as heroes. Then he decided to start a band with amongst others a Steely Dan and a Latin music fan. Although he likes movies more than music the band still got quite a following, not in the least caused by the composing skills of the world's biggest child lover and his Sven Gali. Who are we talking about? Alient Ant Farm singer Dryden Mitchell of course!
Publicatiedatum: 08 februari 2002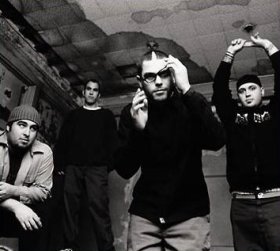 So what's the story so far?
"We started in 1995. We are from Southern California, Riverside actually, which is about 45 minutes east of Los Angeles. We were all in other bands. I was actually playing acoustic guitar and singing folk music. Joni Mitchell and Tracy Chapman are my heroes. I was playing in coffee shops and these guys were playing heavy music. They just liked that I can sing, rather than scream. So we all have been friends before. We have seen each other's bands throughout the years. And we all played with each other in some way just for fun.
We decided we wanted to start a new band and had a few conversations first. We talked about what style or what we wanted to do. Our influences were so scattered. Some people in the band are into very heavy music. Our bass player is into Steely Dan. Mike, our drummer, is into Latin-stuff. And I was listening to mellow folk music. That's how it all started. We just started playing as many shows as we possibly could. We were all in semi-successful bands in our small area. So just us getting together created a buzz. Kids from all around our area were like: "Wow, these guys are all playing together". So right from our first show we had a good beginning in our small area. But we did not want to burn it out and play a bunch of shows until people would get bored. So we played in our hometown like maybe once every 2 or 3 months.
We figured we might as well go to Los Angeles. We would do anything and everything to build this buzz. We would rent big buses and sell tickets to people from our area, so that they could drink beer on the bus. We would have 50 people per bus and we'd take 3 or 4 buses to Los Angeles. And then suddenly but surely clubs around Los Angeles were like: "What the fuck, we've never even heard of this band, but over 400 people are here". That was really good and it helped us a lot. Things got started and before we knew it the word had gone to record labels. They kept hearing the name. We were growing up with guys like Incubus in our hometown in Arizona. And all these bands were shooting up and we were still like: 'What the fuck!".
We felt we were doing the same but it wasn't happening. Every single major record label turned us down. Name one and we've played for them and they said no. And finally we found our home with Dreamworks. Papa Roach had a big influence and helped us out, they pulled us up."
You still play folk music sometimes?
"No, we don't really have time. Since we did this record, we have been on tour for 6 months. I've gone home like two times for a day. I just go home wash my clothes, buy some more toothpaste and we're gone. We are getting bigger in the US and also in the UK right now and nobody knows who we are out here in Europe. That's ok, we'll build that up. We are going to be a band that comes back here hopefully 3 or 4 times a year."
Is this the style you've always played with AAF?
"I think we were a little heavier at first, just because we were younger. The music is still angry, but it was a lot rawer and punchier tehn. Now I think we're kind of getting infected a little bit by the contemporary bug. We're all fans of Sting. It's hard not to want to do stuff like that, that music is perfect. I hope in a few years we'll get even more contemporary. If we lose fans because we get soft then fine."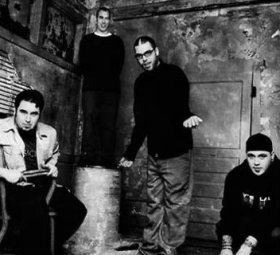 How was the song writing process?
"There was no formula. We went in and did two songs with Jay. We decided we were a good team with him. We took a month off and started writing like crazy. We were in a rehearsal studio right across the street from the recording studio which Jay owns. He'd come over from across the street every day and watch what we were doing. We wrote as much as we could in those 30 days. There's no formula. The music gets done first. Every time I recorded it with a recorder. If it doesn't sound that great that doesn't matter. As long as we got the idea. And I take it to my car or my room and nerd out on it. Over and over again until I come with my powder. If the band has any suggestions for me I'm fine with it. Even if someone like you would watch us play and have something to tell me afterwards that I'd probably don't want to hear, I still want to hear it. It's cool. I'm not like: "Oh, everything I'm doing is perfect". I want to learn. There are singers all around me that are way better than me. I want to get up there."
Jay Baumgardner produced your album 'Anthology'. How was it to work with him?
"Great. Most enjoyable of working with him for me was that he didn't get too involved in our music. He kind of let us do our own thing. Which was important for us, because it's our first record for a major label. We didn't want so much that it didn't sound like us anymore. He heard our songs and he was like: "Cool, let's record them". With very few things he was like: "Maybe you should switch these". Real minor stuff. The next records we do we want to find producers that will become like band members. Someone who will come in and play piano or sing harmonies with Tye and me. But for the first one we didn't want someone who'd get so involved."
You've always wanted to be a professional musician?
"Yes, pretty much. My dad played guitar and sang. I always watched. We would play for our family. They'd say: "Get your guitar and play a song". My dad would do that. I remember being young and it would change the room, the mood. Everyone was a little looser after he played. And everyone was talking. And I remembered: that's what I want do, change the room. Not so much the music it was more like a social event. It broke the ice and made it everyone a little stress free."
On your album there's the cover of Michael Jackson's 'Smooth Criminal'. Aren't you afraid of being criticized as a band that became famous with a song which is not their own?
"No, there's enough creativity here. We all study, we now what we're doing. It's a fun song for us. We've been doing it for years. The kids dig it. We want to do what people like and honestly if anyone is puting us down I want see them play it. Because it's a hard song. Michael Jackson and Quincy Jones wrote some of the greatest songs ever. I don't care if it's not cool anymore to like Michael Jackson. A lot of kids don't like them anymore, because it's not cool to like him, Just like Nirvana. "My little brother likes them, so they suck". That's stupid!"
But why 'Smooth Criminal'?
"It's just a good song. It was begging to be done. We used to do 'Smooth Operator' by Sade with saxophone and congas and everything, but this song had more punch and appeal. Every show we played a different cover song by like Police or Bad Brains songs. Once we started doing 'Smooth Criminal' we added it to our set. We felt like it was a strong, cool song."
We'll finish off with a little game: I mention two things and you have to tell me which one you prefer and why. Touring or recording?
"Uhm, recording. You get to make things perfect. Touring is a lot of fun, but it's really tiring. Recording seems to be a little more rewarding."
Heineken or Budweiser?
"Heineken. That's my favorite beer. Budweiser sucks! It tastes like horse piss. The people from Amsterdam drink Budweiser and the people from America drink Heineken."
Movies or music?
"Come on!"
Music?
"No movies! I love movies, Tye and me are big DVD collectors. We have so many movies, it's crazy."
Aliens or ants?
"My mom is an illegal alien. She's Mexican and not supposed to be in America. So I'll choose aliens."
Britney Spears or Jennifer Lopez?
"I don't really know them. I don't think about them too much. They're both pretty. I don't know any of their songs. Not well enough to make a judgement anyway."

http://www.kindamuzik.net/interview/alien-ant-farm/alien-ant-farm/1255/
Meer Alien Ant Farm op KindaMuzik: http://www.kindamuzik.net/artiest/alien-ant-farm