Amon Tobin - I'm just very enthusiastic
Amon Tobin just made one of the scariest albums of the year, Out From OutWhere. His concoction of virtually any kind of music you can think of soundsdirtier than ever, and we thought it would be a good idea to give the manfrom Brazil a call for a nice conversation about soundtracks, drugs,software, and the importance of press releases.
Publicatiedatum: 13 september 2002
Out From Out Where sounds like a soundtrack to a really scary sci-fi movie.
"Yeah, I wanted to make a very dense record; I wanted it to sound really gritty. I didn't feel like doing a smooth jazz affair: There's enough of that around already. But there wasn't any kind of concept or anything. I've been working on the album for about a year. I made it track by track, and most of them were made at very different times. I made loads of tracks, actually, and I just collected the ones that fit together well."

It sounds pretty trippy, too.
"Well, when I started off, I wanted to make a psychedelic electronic album. Obviously I have a cliché view of psychedelic music, as I wasn't around in the sixties when people first started to make all that stuff. So I ended up experimenting with what I think is psychedelic music."

Have you ever taken psychedelic drugs?
"Not really. I smoke a lot of weed, but I never took acid or anything. Well. I have had mushrooms, but it's not really a source for me to make my music. So I'm not even qualified to make psychedelic music, really. It's just my idea of it, and however manufactured that idea might be, it's still an idea. I'm fascinated by the way people from different cultures take elements of other cultures and incorporate them in their own. Like, for instance, the Bollywood people, how they take the sounds of disco and work that into their soundtracks so that it sounds completely different all of a sudden; or the way the Hollywood studios take Eastern music and make their own version of it. It's their understanding of another culture's music. I find that very interesting."

Do you get the idea that people don't expect you, as a Brazilian, to make the kind of music you make?
"Yes, sometimes. They say things like 'Ooh, you're from Brazil. You must have been brought up with nothing but batucadas,' but that's nonsense, really. I'm influenced by everything I hear. In my opinion, people pay way too much attention to one's origins. I think it's a bit tedious to always go on about where you're from and all that. You're just born where you're born, you can hardly take any credit for that [laughs]. Of course it influences you, but as I said, so does everything else."

Your music sounding like it does, it's quite obvious one would think you're quite into movie soundtracks. Ever considered doing any?
"Oh yeah, definitely. I've had some flirtations with the soundtrack world, but it's difficult. It's such a collective of people, very hard to actually get anything done. You know, some director asks you to do something, you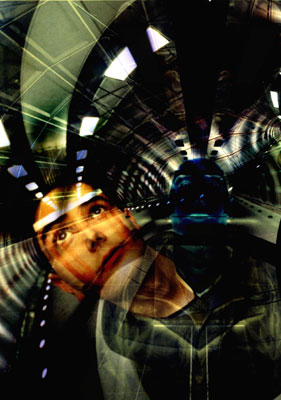 give it to him and he really likes it. Then he takes it to his boss, and he really likes it, and his boss does, too. And then that one takes it to the head honcho, and he goes 'Amon who? Who's that? Give me Limp Bizkit!' So it's a tricky thing; you deal with people who want to sell a movie, so they just want a compilation with all the hot bands for a soundtrack. It's a great shame, really. I think the soundtrack is such an important part of the movie. Like when you see the old Hitchcock movies with their soundtracks made by one man, Bernard Hermann, or Sergio Leone's films with Ennio Morricone — I love that! It's so much stronger than any of those compilations they do nowadays."

So what kind of movies do you like?
"Well, I like David Lynch, Dario Argento, Polanski, the Coen brothers. I'm influenced by some of the stuff I've seen in Lynch movies."

Have you never tried to contact him?
"I'd love to work with him, but you know, it's the machine you're up against. I don't want to waste my time on trying to get through. I just want to make music. It's such a crazy world and I can't be bothered, really."

Back to the album. You said you've been working on it for a year.
"Yeah, but not every day. When I finished Supermodified I had to do a lot of touring and so on, and I started working on a couple of tracks in the meantime. I think that in total I've spent about a good month working on the album. It all came very well. I did some terrible tracks, as well, that went completely wrong. You see, I have a tendency to hold on to an idea for too long. Sometimes I have an idea and I just keep working on it for days, weeks, months on end, even if I know deep down that it's a waste of time. Until I stuff up completely. [laughs]"

Are you a perfectionist?
"Not really. I don't really care about the perfect sound, or the perfect production. I just want my song to come out the way I intended it to."

So how does an Amon Tobin song come about?
"Generally it's either an idea I have for a song, or a sound I hear that I want to use. Or a combination of both."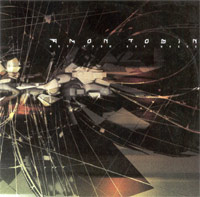 In the press release, it says that you've 'returned to traditional sampling,' as opposed to making your own sounds.
"I have no idea where they got that from! [laughs] Just goes to show that you shouldn't pay any attention to those press releases. It's all based on samples from vinyl, same as it ever was. Normally I'm not interested in rare breaks — you know, the collector's items. I prefer to use the really bad records nobody's interested in, but that have the odd, good break, and then make the sample 'mine,' so to speak. Really work it into something completely different."

Have you ever studied music?
"No, I'd love to though. The thing is, I'm just very enthusiastic. That's my main quality probably. I really love to work on the music. Or to try new things, which is a big part of what I do. For my upcoming tour I'm going to do something new as well. There's this new software put out by Stanton called Final Scratch, with which you can play wave forms from your laptop on two regular turntables and mixing board. So I can make customized versions of my and other people's music to play out. So I'm setting up a kind of showcase of music I'm influenced by, things I've sampled and my own music. I don't play with a band or anything, because the music is made by me, on my own, so I don't see any reason to put together a live band. [laughing] I'd feel like I was cheating."

Out From Out Where is out on Ninja Tune on October 14
Amon Tobin will be playing @ the Melkweg, Amsterdam alongside Nightmares On Wax
date: November 16, 2002
more info: www.melkweg.nl

http://www.kindamuzik.net/interview/amon-tobin/amon-tobin-i-m-just-very-enthusiastic/1862/
Meer Amon Tobin op KindaMuzik: http://www.kindamuzik.net/artiest/amon-tobin