Modest Mouse
Modest Mouse's music conjures up images of the urban side of America. Think highways and the seedier side of the city packed in epic guitar-songs. However, with "The Moon & Antarctica" they finally managed to come into their own, adding loops and experimental sounds to their already hypnotizing guitars. On tour in Europe, we sat down in the tourbus and talked about naked midgets, creepy pop and obsessive fans.
Publicatiedatum: 03 december 2000
Is this the typical smell of a tourbus?
Isaac: "Is it a bad smell? Is it a musty, male, threatening, intimidating smell? (laughs) We're immune to it. I am sure it smells horrible. I know that my bed smells like a homeless person, like a vagrant and a drunk."
We don't have many homeless people in Belgium.
Isaac: "We have no shortage of 'em in America. Jeremiah's dad is one, isn't he? My dad is on the verge of becoming one."
Eric: "I have seen him stumbling around drunk."
Who?
Isaac: "Jeremiah's dad. I am sure he'd really like to know that we're talking about that."
Anyway, seems last night your gig in the Netherlands [VERA, Groningen, ed.] was very loud.
Isaac: "It wasn't any louder than it is anywhere else. We're louder in America, we're quiet over here. It's really trebly. The amps we have are really punchy, they sound like shit. But in order to get them to sound at all sort of like we want them to sound like, we have'em loud. We're not really trying to be loud obnoxious by any means, y'know. It's just the level we need to have things at, in order to make the amps sort of sound alright."
Eric: "Plus it's a rockshow. It should be fun."
Isaac: "And anyway it's a rockshow, y'know. I don't imagine that they told the Unsane or Ramones or fuckin' Supersuckers or whoever else they had over to turn it down."
How's your tour been going?

Isaac: "Y'know, up'n down. There's moments where it's been pretty fun and cool. And then there's been moments where it sucked and everyone told us to turn it down. (laughs) I don't mind being told to turn it down but it's how they go about it. (pauses) No, actually I never liked been told to it turn down. I am usually pretty mean when people tell me to tune down. Besides it's been pretty cool. We've played some really weird places. We played on a pirate ship in Paris. On an actual boat. There was no stage, it was really tiny. The ropes were there, where we were playing. It was really small. The boat was kinda rocking. It was really bizarre and I kinda liked it too. Then we played at Christiane in a... I guess it's Christiane. What town is that in?"
Eric: "Copenhagen."
Isaac: "It's like a squat that's become a city. They got everything, stateparks, restaurants,... A pretty big place, y'know. It was really cool, an interesting thing. It's nice to see it working out."
Do you get a lot of Americans coming to the show?
Isaac: "Yeah, yeah,... sometimes that's really irritating. Y'know, we can play for them over there. They feel like they got priority."
How do you mean?
Isaac: ""We're from America! Play this song!""
Do you get obsessive fans?
Isaac: "Not in Europe. I don't think we have any fans in Europe. (Eric laughs) But we definitely have obsessive ones. In America we have some freaky obsessive ones. We have people who move to Seattle to hang out with us and shit. And people who follow us for weeks and weeks. Yeah, there's some crazy people. I have had my mail stolen and sold on the internet once."
I noticed some messageboards and websites dedicated to the band.
Isaac: "Freaky huh?"
Why do you think people get obsessed with the band?
Isaac: "Fuck if I know. I don't even wanna know."
Do they relate to the lyrics?
Isaac: "That's a good guess. The only way you can get personally attached to a band is when you feel like you're somehow related to the people and what they do. You feel like you had some conversation and got some insight to what they are via words before you can get that obsessive. It must have something to do with that."
How do you translate the sound of the record to the stage? You use a lot of loops and experimental sounds on the record.
Isaac: "It's a lot harder in Europe. In America we have people who at different shows might be playing violin. Or we'll have a keyboardist, a percussionist. We can afford to have a lot more. And onstage, we don't care, we just try and do it as good as we can. And sometimes things can't be recreated so you do it differently. It's part of the fun of live shows, you find a way around that."
You just want to rock?
Isaac: "It's definitely more rock. It bums us out a little bit because we can't pull off exactly the crazy shit. But we're gonna try to figure out how to use computers and whatnot live. It's definitely gonna take some work. The three of us are still gonna have to be playing the guitars and instruments. We're gonna have to find someone who understands what we want."
Can't you do playback?

Isaac: "I'ld feel like cheating. We might as well be a lipsyncing boyband. We might as well just play the vocals. And if you have a tape playing, it doesn't leave for experimentation. Just meandering through a song, forgetting to do something, having to go one time longer, y'know."
Why do you experiment so much?
Isaac: "Because it's fun. (laughs) I like fucking up sounds. The last one I had a lot of time cause I got my jaw broken. So I couldn't do the vocal tracks. So me and the producer... I'd take painpills and we'd get drunk and spend six hours chopping up sounds. Just screwing with everything which was really nice. We had a good time."
What happened to your jaw?
Isaac: "Someone punched me in the face. For no reason. Wrong place, right time. Err, the wrong time."
Or the wrong person. Why do you do the soloprojects like Ugly Cassanova?
Isaac: "It's just starting. As soon as this tour's over I'll start working on that record."
It's not just you?
Isaac: "It's me and whoever I decide to play with. Like Pall from the Black Heart Procession will probably be playing with us."
Someone from Neutral Milk Hotel as well, I heard.
Isaac: "We're trying to get Julian and Robby. Not Jeff, the singer. But Julian, who's the guy who plays accordion, the banjo and stuff like that in the band. He's a really cool guy. And a bunch of other people. The Califone people. The guy who helped produce our record is gonna help with it a little bit."
Do you do anything else?
Isaac: "Modest Mouse manages to take up all my time. That's fine. For the most part I can do whatever I want in Modest Mouse. There's not much need for me to do sideprojects. Ugly Cassanova was an excuse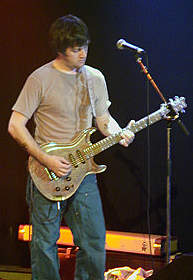 for me to put out recordings at my house. It's sort of a loophole so that I wouldn't get trapped in the Epic contract, y'know. If something happened, if I wanted to bail from Epic which isn't by any means gonna happen... Let's say our band broke up or Eric got his hands cut off."
Eric: "Oh shit... which could happen..."
Isaac: "Yeah it could happen to Eric. He could piss me off for not paying me back my money. (Eric laughs) That he never borrowed. So don't borrow it, so we don't have to break up this band! Let's say that happens, Eric and Jeremiah both have no hands because they didn't pay me back... And uh... The band's dissolved and I decide to do a project, a different band, Epic would still own me. So that Ugly Cassanova thing, they agreed to that. So I already have this other band that they don't own. And anyway it's something I wanna do, I just wanna hang out at my house and record music without the stress of a lot of people trying to tear it apart and analyze it. Something a little more ignored in the States."
What about the soundtrack?
Isaac: "We did the soundtrack, we gotta make the movie."
How do you mean?

Isaac: "We're gonna make a movie for "The Moon & Antarctica". We don't know if we actually will or not. There's all sorts of plans. But if we actually end up doing 'em is another thing."
What was the cover about?
Isaac: "It's not something I wanna explain."
Eric: "It's s'posed to be interpreted by whoever buys it. It's kind of a riddle, the whole damn thing is a riddle."
All the pictures?
Isaac: "No, those are a little more random, the scenery. The blue hands are part of a riddle."
How do the fans react now that you're on Epic?
Isaac: "Some of them are fine. There are obviously gonna be people who'll have issues with that. But fuck'em. It's about music. If we stayed on Up, we wouldn't have a label right now. There is no more Up. My best friend who owned it, just died of leukemia. So it's no more."
But you stayed on Matador in Europe?
Isaac: "We had to contractually. And that's fine with me, I like Matador. They are probably doing a better job with the record than Epic. Not that they are doing an outstanding job by any means, they don't have the money to force people to buy it like people do with Blink 182. I can't think of any other reasons why people would buy a Blink 182 record."
They're kind of cute.
(Eric laughs)
Isaac: "Kinda. There's a lot cuter bands out there that suck too."
What if you go naked in your videoclips?
(Eric laughs)
Isaac: "I don't think that helped them. I was watching 'em and I was saying to myself "That can't be good for their career.""
Eric: "It was!"
Or you could go all the way?
Isaac: "A naked midget band."
Can you explain the name of the band?
Isaac: "From a book I read, when I was like 15 or so, refering to working class people as modest mouse-like people. Grabbed that band and never let go of it. We probably decided to change the name but it was too late."
Someone described you as a Gothic Built To Spill...


Isaac: " Gothic Built To Spill?!? Well, we've been around as long as Built To Spill doing this shit. We're definitely darker than Built To Spill. We kind of have a close sound but I don't really see it. I don't know... It's not for me to say what our band's about. We're a popband, we're a creepy popband."
Then again I read a comparison with Jane's Addiction.
Isaac: "I'm sure we sound like a million bands and we adopt different parts of them. And I'm fine with that. Everyone borrows stuff... It should be like blues musicians. They even played the same songs but just in their own way. That's a pretty good way of going about it."
http://www.kindamuzik.net/interview/modest-mouse/modest-mouse/395/
Meer Modest Mouse op KindaMuzik: http://www.kindamuzik.net/artiest/modest-mouse